How to detect Water Damage and Mold Early in Carson City
As a water damage restoration company, 911 Restoration of Carson City understands the importance of detecting water and mold damage before it is too late. Water damage can occur from a variety of sources, including broken pipes, overflowing appliances, and natural disasters such as floods and storms. If left untreated, water damage can lead to the growth of mold, which can have serious health consequences.
How To Detect Water Damage In Your Home
One of the key ways to detect water damage early on is to pay attention to the signs of water infiltration. These can include water stains on walls or ceilings, the sound of running water where it shouldn't be, and a musty smell in the air. If you notice any of these signs, it's important to take action immediately to address the problem before it gets worse.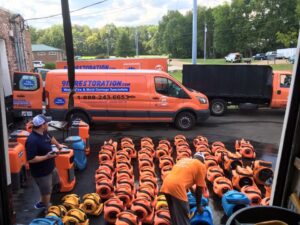 Another way to detect water damage early on is to conduct regular inspections of your property. This can include checking for leaks in pipes and appliances, checking the condition of your roof and gutters, and inspecting your foundation for cracks or other signs of damage. By conducting regular inspections, you can catch potential water damage before it becomes a major problem.
Water Damage Can Lead To Mold Growth In Carson City
When it comes to mold, early detection is just as important. Mold can grow in as little as 48 hours after water damage occurs, so it's crucial to address water damage as soon as possible to prevent mold growth. Signs of mold include musty odors, visible mold growth, and respiratory symptoms such as coughing and sneezing.
Find The Best Professionals For Your Restoration Services
If you suspect that you have water or mold damage, it's important to call a professional restoration company like 911 Restoration right away in Carson City. Our team of experts has the knowledge and experience to quickly and effectively address water and mold damage, no matter the source. We use state-of-the-art equipment and techniques to remove water, dry out affected areas, and repair any damage that has occurred. We also use specialized techniques to remove mold and prevent it from returning. At 911 Restoration of Carson City, we understand that dealing with water damage can be a stressful and overwhelming experience. That's why we believe it's crucial to choose the right water damage restoration company to handle the job.
911 Restoration understands that dealing with water and mold damage can be a stressful and overwhelming experience. That is why we strive to provide excellent communication and customer service throughout the entire process. From the initial call to the final walk-through, we keep you informed and involved every step of the way. We understand that your home or business is one of your most important investments and we will work hard to restore it to its pre-loss condition as quickly and efficiently as possible.
Detecting water and mold damage early on is crucial to minimize the damage and prevent health hazards. With 911 Restoration, you can trust that your property will be in the hands of experienced professionals who will work tirelessly to restore your peace of mind. 911 Restoration is fully certified, trained, and committed to providing excellent service, transparency, and great communication. We are here to help and are available 24/7 for any water damage needs. Don't hesitate to call (775) 419-0122 to get in touch with our IICRC-certified experts at 911 Restoration of Carson City today.