Disaster Restoration in Carson City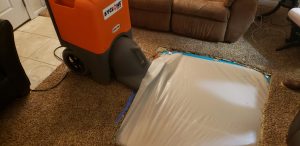 Disaster restoration Carson City services from 911 Restoration are all inclusive, so if an ice dam, which leads to a flood, and ultimately mold growth, damages your property we will take care of all of it. We are available 24/7 to handle the flood with same day service.
We offer a free visual inspection for homeowners and commercial property owners to check for mold. If found, we will start the mold removal and decontamination process with a vapor barrier to prevent the spores from spreading to the rest of the building.
No matter how bad the disaster is, call 911 Restoration of Carson City and we will arrive within 45 minutes to start the disaster restoration process.
What Property Disasters are Most Common in Carson City?
Carson City has its fair share of disasters, such as snow, rain, and windstorms. Each one of these poses its own threats to your property.
Rain, of course, can cause leaks in your windows and ceiling. With our moisture reading technology, 911 Restoration is able to spot these leaks and remove any flood damage before mold begins to colonize.
Snow can cause similar issues as rain leaks with added danger. In those temperatures, your home's plumbing system is in prone to freeze and burst, so be sure to insulate your water line. A pipe burst can be especially damaging to a home. The best way to prepare for that type of damage is to know where your 911 water damage experts main is and how to shut it off in case of an emergency.
Finally, windstorms, much like the other two, can damage a building slightly so that owners are unaware of the damage to their property and the potential leak spot until it is too late.
No matter how your property is damaged, call our disaster restoration Carson City company for same day service from knowledgeable representatives that care about your needs.
Customer Based Disaster Restoration
When you call us, you immediately receive the aid of professionals that care about you. We handle it all; from the initial walk through to the final coat of paint, we work with you to decide how the disaster restoration commences and what you would like to see while keeping in touch with your insurance company to make sure we stay within the bounds of your policy to keep costs down.
Our job is to get you the best disaster restoration service so that you are satisfied with the performance of our crew and the outcome of your home or business after our job is complete. We know you are the one that will be living with it, so we make sure you like it. Call 911 restoration near me for customer based disaster restoration.