Mold Removal in Carson City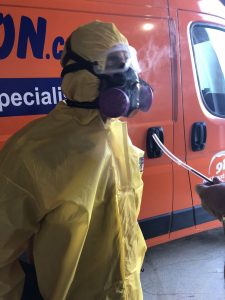 The risks associated with indoor mold growth should not be underestimated. Mold can have tremendous negative effects, including:
Damaging Property Resale Value
Property owners often choose to take care of mold removal as soon as they spot mold growth. Unfortunately, mold can be difficult to identify. Mold often grows where property owners cannot spot it. Sometimes a musty smell is the only warning property owners get that they have a problem. If you need help confirming a mold problem, you can call 911 Restoration of Carson City for a free visual mold inspection for property owners only.
Acting quickly by calling a professional mold removal company increases the odds that your mold issue will be resolved quickly and thoroughly. Attempting mold removal on your own is generally not recommended, as you can easily miss some spots of mold, allowing it to return after clean-up, putting you right back in the same situation.
911 Restoration of Carson City has years of experience handling mold decontamination. Our technicians are IICRC certified to carry out mold cleanup and we work with a third-party laboratory to carry out professional mold testing, allowing us to determine exactly what strain of mold has taken up residence in your property. Call us at(775) 419-0122 and learn how we can help.
Our experience and equipment allows us to take care of mold removal in both residential and commercial properties. You can count on 911 Restoration of Carson City regardless of the size of your mold infestation. Call us 24/7 to get the help you need to completely remove mold from your home or business.
Water Damage Can Increase the Risks of a Mold Infestation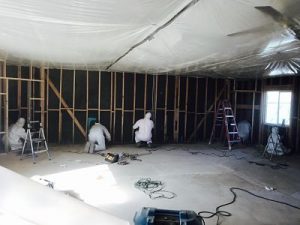 Mold infestations have many causes, but most often you see mold growth after a property suffers from water damage. Floods and leaking pipes provide the moist environment that mold needs to grow quickly. Property owners should seek immediate water damage restoration after storms or plumbing emergencies.
You can give mold a chance to flourish if you wait to take care of water damage restoration. 911 Restoration of Carson City is a highly trained water damage restoration company that can take care of water removal quickly.
The dangers posed by excess moisture can be extreme. 911 Restoration of Carson City has the tools necessary to remove standing water and small areas of dampness that can be difficult to dry out on your own.
Call us at (775) 419-0122 and please allow us to offer you a free visual inspection.
Taking care of water damage restoration quickly will lower the chances that you will need serious mold removal services later on.  Water damage restoration can also return your home or business to perfect condition after a:
You do not have to deal with extensive damage to your property by yourself. We can reach homes or businesses in Carson City within 45 minutes of an emergency call. Emergencies don't keep a 9 to 5 schedule, and neither do we. You can reach us at any time of day to get immediate help.
Mold Remediation Services Available to You in Carson City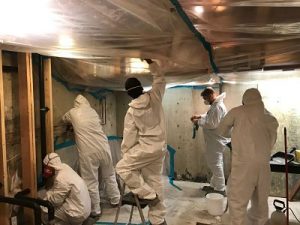 Mold remediation Dayton involves much more than washing down a wall with soap and water. It can thrive in carpet and behind walls, where it can be difficult to spot. You may carry mold spores around your property on your clothing. Spores can also move through air conditioning vents.
911 Restoration of Carson City will seal off areas affected by mold to prevent the spread of fungus around your property. We utilize air scrubbers and air chambers to ensure that the air in your home or business remains safe to breathe during the mold removal process.
Mold cleanup may require our technicians to remove:
Materials Infested with Mold
Mold can happily live in insulation, drywall, and even your carpet. Some of your possessions could even suffer a mold infestation. 911 Restoration of Carson City has the resources to fully sanitize your property so that personal items cannot re-infect your home or business with mold spores.
911 Restoration of Carson City also works to prevent mold from returning to your property. Depending on the type of mold found on your property, your home or business might require different antimicrobial and antifungal chemicals.
Call us at (775) 419-0122 and see how we can help you.
After mold removal has been completed and your property is protected against future mold growth, 911 Restoration of Carson City can focus on restoring your home or business and addressing water damage restoration for your drywall or floors. Our goal is not just wiping out any mold growing on your property. 
Let us handle mold removal and water damage restoration for your home or business.
Serving the communities of Carson City, Dayton, Gardnerville, Indian Hills, Minden, Mound House, Stateline, Virginia City, Washoe Valley, Hawthorn, Yerrington, Silver Springs, Topaz Lake, CA, Markleville, CA, and surrounding areas.