About 911 Restoration of Carson City
Chris Poulin, 911 Restoration of Carson City Owner:
911 Restoration of Carson City is the Fresh Start Company that shows up to your door within 45 minutes of your emergency water damage call and it is led by native Chris Poulin and his sister Dana.
Chris has owned a window-cleaning company in the area for decades and is happy to bring a new service to the area. With a disaster restoration company, Chris plans to bring relief to his longtime customers of window washing should their property ever succumb to mold infestations, roof leaks, or even fires.
While still maintaining his successful window-cleaning company, Chris can now also provide his long time clients and new customers with even more property services. He is IICRC certified to provide water damage restoration, fire damage restoration, mold remediation, and more.
Having a family run business with the support of a nationwide franchise sets this brother and sister team apart from the crowd. Call 911 Restoration and our water damage Carson City crew for more information on how we can help you today.
911 Restoration is the Company to Call for all Property Restoration Services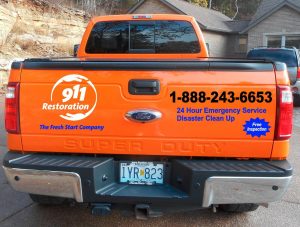 Chris has dedicated himself to be a bastion of knowledge in the restoration industry to provide the best advice for his customers.
If you have a fire, escape the immediate danger, call the fire department, then call 911 Restoration of Carson City. We will walk you through the process of what happens and handle all the insurance paperwork for you. We listen to our customers' needs because we know how frustrating it can be to deal with paperwork after such a crisis.
If your home or business floods, our water damage Carson City team offers same day service so you can get back to work  sooner  or back to relaxing in your dream home.
For mold, you should be aware of its harmful effects to the human body. It can be toxic when inhaled. This is why Chris offers a free visual mold inspection for property owners, so that, if there is any suspicion of fungus, we can make sure your building is safe and you're breathing easy.
For more information, call 911 Restoration.
The Fresh Start Difference from 911 Restoration
When you call 911 Restoration for your water damage Carson City services, you get a crew of IICRC certified water removal experts who really care about your belongings and well-being. We understand the devastation that comes with pipe leaks, toilet overflows, and worse disasters, so it is important for us to let you know that you and your possessions are in good, capable hands during the restoration process.
Call us today for same day service.